Follow @insidefutbol




Rangers Under-20s boss Ian Durrant has been left fuming after his side were thrashed 4-0 by Ross County.
The young Staggies were 4-0 up by half time and threatening to inflict a massive defeat on the young Light Blues. However, Durrant made a number of changes at the break, notably introducing players from the club's Under-17s side.

Jamie Barjonas, Kyle Bradley and Zak Rudden were all brought on and Rangers did not concede any further goals, keeping the pain at just 4-0.
Durrant was left fuming at the quality of his side after the final whistle and will escalate matters up the food chain at Rangers if the Under-20s cannot rise to the challenge.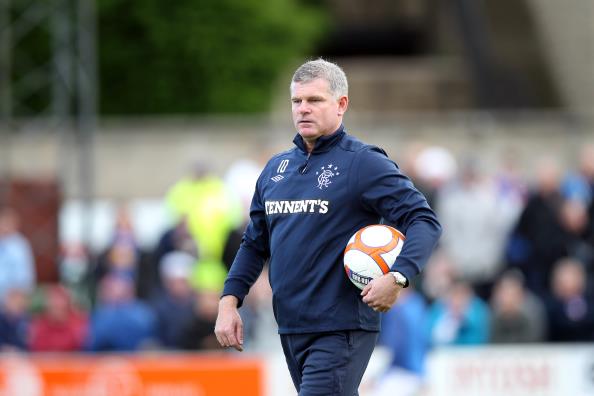 The Rangers youth boss even went so far as to indicate a number of players were not going through the pain barrier or pushing themselves adequately.
relatedNewsStory
"We are Rangers. Even at 4-0 down, we had to look to try and go on to win the game, and if you're going to go down, then you have to go down fighting", he told Rangers TV.
"So I gave the young boys – Jamie, Zak and Kyle – a chance, and they came on and looked as if they had been playing in the 20s for three years.
"If that's the way ahead, then so be it. I'll sit down with Craig Mulholland and Billy Kirkwood as you can only put up with so much for so long.
"If the boys are not going to go through the pain barrier or do the hard things to win the game, then you have to make changes, and I thought the young boys' introduction energised the team in the second half and added a bit of discipline to us", Durrant added.
While the Gers were missing a number of players on international call-ups, Durrant is not willing to use that as an excuse and pointed to Ross County also boasting a lack of experience in their ranks.
"You miss them because they are better players than what we have in the team there – and I'm not going to kid on there.
"Ross County had a young team too, so I wouldn't say they are the most experienced, but they dealt with the conditions, they showed a bit of desire when the ball went into the box – and if our defenders showed the same desire they did in the second half in the first half, I think it would have been a totally different game."
Rangers also saw a player sent off in the second half with young Jamie Brandon given his marching orders for reacting to a bad challenge.