Follow @insidefutbol




Manchester United and Chelsea linked midfielder Marco Verratti has revealed that he has no desire to leave Paris Saint-Germain, in spite of claims from his agent that he could depart.
Verratti's agent Donato Di Campli had said before Tuesday's meeting with Barcelona that his client might think of leaving the club if they look unlikely to be able to win the Champions League going forward.

Following the agent's comments, the French champions thrashed Barcelona 4-0 in the first leg of their last 16 tie, thus taking a big leap towards reaching the quarter-finals of the tournament.
Post the match, the Italian international, who signed a five-year contract with PSG last August, dismissed his agent's claim saying that he has no desire to part ways with the club.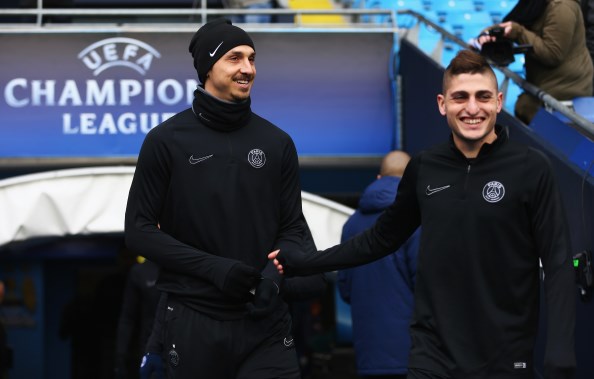 Though he believes hearing about interest from big clubs is good, Verratti said that he delighted to be part of a "great project" and wants to help PSG become one of the top three teams in Europe.
relatedNewsStory
"I'm pleased to attract interest from the big clubs, but I don't want to change", Verratti told Italian broadcaster Mediaset Premium.
"I am part of a great project and we want to become one of the top three in Europe."
Verratti has long been linked with a move to the Premier League, where Chelsea and Manchester United are thought to be admirers, and his words will come as a blow to the pair.
With PSG looking strong in the Champions League, Verratti may feel the French giants can lift the trophy this year.