Follow @insidefutbol




Chelsea legend Pat Nevin believes that Blues forward Eden Hazard is best-suited as a false-nine role under the infamous Sarri-Ball tactic on display at Stamford Bridge this term.
Maurizio Sarri has transformed Chelsea since his appointment in the summer, with the Blues opting for a change in shape that has produced some of the finest free-flowing football at Stamford Bridge in recent memory.

The Italian tactician's masterplan has been hindered at times due to the lack of a natural goalscorer and Sarri has opted in favour of Hazard playing as a false-nine in recent wins over Manchester City and Brighton.
Despite naturally being a wide player, Hazard has taken up the mantle through the middle for both club and country in the past and has been directly involved in all the goals Chelsea have scored in their last two league games.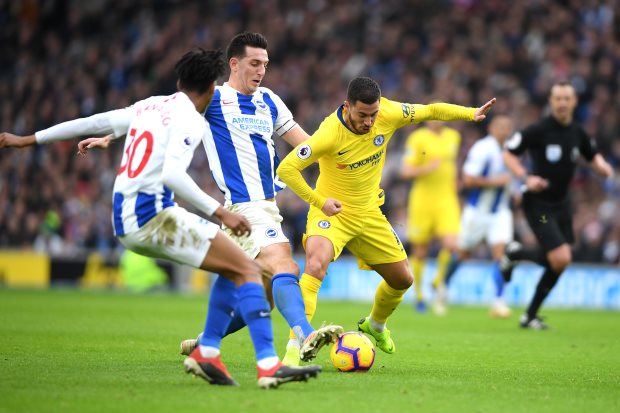 Nevin, who was a central figure at Stamford Bridge during his playing career, thinks that Hazard is best-suited as a false-nine under Sarri's new system at Chelsea this season.
"Clearly the Maurizio Sarri-inspired change to shift Eden Hazard into the false-nine position has been pretty successful in the short term", Nevin wrote in his column for the club's official website.
Error, group does not exist! Check your syntax! (ID: 76)

"Those who were across the use of Dries Mertens at Napoli under Maurizio will see a very clear and obvious similarity in the tactical switch.
"Eden has played there before for Chelsea and for Belgium, but up until now this tactic has only been used in extremis."
Nevin also admitted that even though Chelsea have always resorted to playing with a big target man at the top in the past, it could be under Sarri that the diminutive trio of Hazard, Willian and Pedro work at their optimum level.
"Even if the idea of the three 'little' guys up front in Hazard, Willian and Pedro is far from novel at Stamford Bridge, it may well be that under the Sarri system this idea is better suited than it has ever been", he continued.
"Sarri-ball has never been about anything as coarse as lumping the ball up to a big striker and feeding off the scraps.
"It has always been a bit more cerebral. So you can see why the HWP axis might just keep on working for a while."
Chelsea will next face Bournemouth in the quarter-final of the EFL Cup at Stamford Bridge tonight.